Something to sleep on: choosing the right mattress for back pain
Dec 16
By: Justin Huff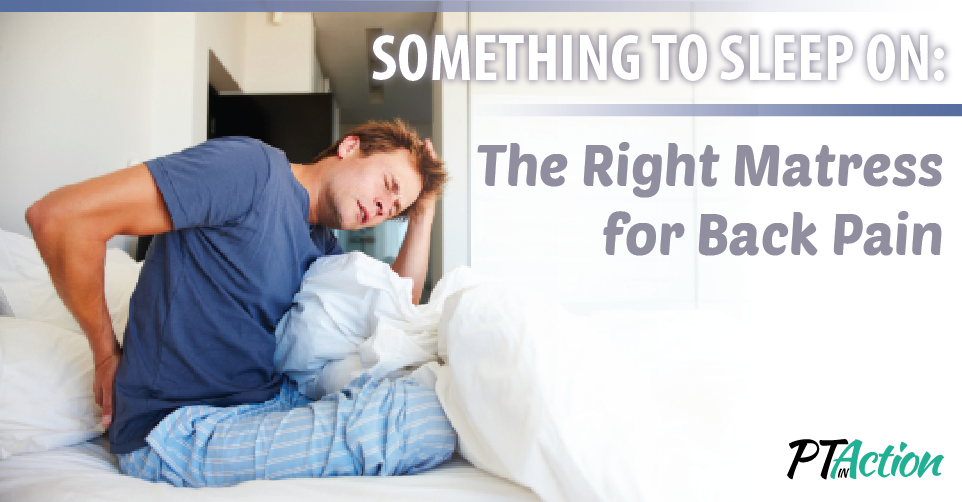 Mattresses come in many types, from spring to waterbed, foam to gel, even adjustable. And they offer different levels of firmness.
Back pain affects roughly 8 out of 10 people at some point in our lives.1 We spend about one-third of our days lying in bed, so what firmness should you look for when buying a mattress for your aching back?
Extra-firm: In a 20052 study, explains that very firm mattresses offer less cushioning for the spine's natural curves, resulting in harmful stress to areas in the low back.
Soft: Although these conform well to the body, they may not provide enough firmness to maintain the natural curve of the spine. This can be detrimental to joints.
Medium-firm: If we think about the points above, then most people with low back pain should find relief with medium-firm mattresses. These types of mattresses will support the curves of the low back and may reduce your low back pain. A 20033 study showed that patients with medium-firm mattresses had reduced pain in bed, reduced pain upon rising, and decreased disability.
It's also important to consider these points when determining which mattress to buy:
Look for a mattress that has a balance between support and comfort.
Cheaper is not always better
It may be time to buy a new mattress if you are unable to get comfortable or waking because of pain.
Test a mattress prior to purchasing

Think about how you feel after waking up at a hotel or a friend's house
What feels comfortable in a store for 10 minutes may not be comfortable for an entire night.
Back Pain. NIH: U.S. National Library of Medicine: MedlinePlus. https://www.nlm.nih.gov/medlineplus/backpain.html#cat79. November 24, 2015. Accessed December 5, 2015.
Normand MC, Descarreaux M, Poulin C, et al. Biomechanical effects of a lumbar support in a mattress. J Can Chiropr Assoc. 2005; 49(2): 96-101.
Kovacs FM, Abraira V, Peña A, et al. Effect of firmness of mattress on chronic non-specific low-back pain: randomized, double-blind, controlled, multicentre trial. The Lancet. 2003; 362(9396): 1599-1604.