Aquatic Exercise Can Buoy the Hopes of Arthritis Sufferers
Jan 19
By Stacey Love, PTA – Harrisburg (Colonial Park) Pennsylvania Center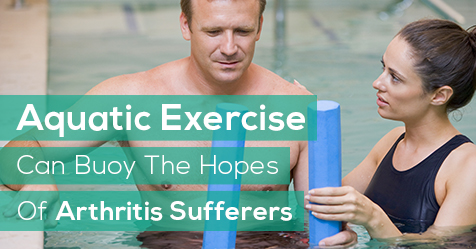 Arthritis plagues more than 50 million Americans each year. Pain, the biggest complaint associated with arthritis, prevents people young and old from performing simple day-to-day activities.
If this sounds like you or a loved one, you should know that arthritis pain can be managed.
Benefits of aquatic exercise
Exercise is an integral part of managing arthritis, but land-based exercise can do more harm than good. This leaves arthritis patients wondering how they can remain active without increasing pain. The answer is aquatic exercise.
Water reduces the stress and load placed on arthritic joints because the buoyancy of water supports one's body weight against the effects of gravity. This allows arthritic patients to move their joints more freely; gain mobility and flexibility without increasing pain; and strengthen muscles without the use of weights.
Water provides 12 times more resistance than air because of viscosity (friction), which aids in building strength.
Another element of water that is helpful to arthritic joints is hydrostatic pressure, or compression. It allows muscles to exercise more without increasing soreness because lactic acid decreases under water. Compression of the limbs and joints submerged in the water improves blood flow, which decreases the swelling of joints and soft tissues.
Where to start a water-based exercise program or aquatic therapy for arthritis?
Many gyms are equipped with a swimming pool and offer aquatic exercise classes, but if you would like more guidance and education, Drayer Physical Therapy Institute can help. Find a location near you that offers aquatic therapy. We can get you the information you need to start an aquatic exercise program to manage your arthritis pain.