Sep 3
Zach Kaminski ran year-round as an undergrad at DeSales University, covering distances ranging from 5,000 to 10,000 meters while competing in cross country and indoor and outdoor track.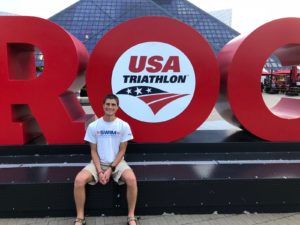 However, chronic overuse injuries persisted to the point that during PT school at the University of Maryland he contemplated giving up endurance sports. But having spent so much time rehabbing in a pool and on a bike, he figured he should enter a triathlon.
"I might as well just do something to keep myself accountable," Zach said, "and have some fun with it."
Since entering his first triathlon in 2016, he also has enjoyed considerable success, which is why  the 27-year-old will be in Lausanne, Switzerland, on Sept. 1, representing the United States in the world championships.
His girlfriend, Liz; parents, Lisa and Joey; and family friends Donna and Glenn Hardcastle will be on hand as Zach attempts to swim (one mile); bike (24 miles) and run (10K) his way to glory. He'll be among 4,000 athletes competing across multiple age groups. Zach said his group is among the youngest and most competitive.
In 2018, he finished with the 50thfastest time among 3,500 competitors at the U.S. national championships in Cleveland, which earned him a spot at the world championships.
Zach joined Drayer Physical Therapy Institute in 2017 after earning a doctor of physical therapy degree from the University of Maryland School of Medicine. He works at the Hickory, Md., clinic as an orthopedic clinical specialist and mentor.
Soccer was his first passion, but as a high school sophomore he was the last person cut from the soccer team.
He felt sorry for himself for a couple of days until a Donna Hardcastle, who was taking her daughter to cross country practice, encouraged Zach to join. He didn't like running initially, but quickly bonded with his teammates and became a state champion his senior year.
Running remains what he is best at, but it's also hardest on his body of the three legs of the triathlon. By carefully managing his workouts, he can keep the hip problem in check.
In late February, he set a personal best time for a 10-mile race in Columbia, Md. However, he injured a tendon on the bottom of his foot, forcing him to wear a medical boot in March and April. He continued to bike and swim but didn't run again until mid-April.
It has been a five-month build-up to the worlds, Zach said. He trained all but one day per week, logging four to six miles in the water; 60 to 100 miles on his bike; and 25 to 40 miles of running.
"I can just about eat anything and be fine," he said, but specifying fruits and vegetables, carbs and proteins ("a definite shout out to peanut butter and beets," he added). He snacked throughout the day to avoid energy troughs and relied on chocolate milk to help with post-workout recovery.
The world championships will begin when a horn sounds. Zach and his fellow competitors, wearing wet suits against the chill of Lake Geneva, will dive in. It's his least favorite part of the race, where goggles can get kicked off inadvertently and waves can present a challenge that can't be replicated in a practice pool.
"I say an extra 'Hail Mary' when I'm in the water," said Zach, who cited the importance to him of his faith, family and friends on this journey.
Once out of the water, he'll have 10 seconds to peel off the wet suit to reveal the USA-branded uniform he'll wear for the biking and running portions. He declined to predict the outcome.
"I think I do best," he said, "when I don't put any expectations on myself except to do my best."