Lessons in Service as a Physical Therapist
Apr 21
By Steven Wentz, PT, DPT – Aurora, Ohio Center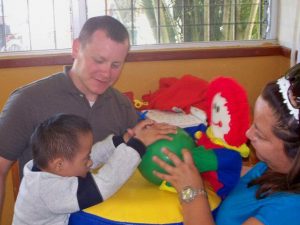 In Izamal, Mexico, nicknamed the "Magic City" and painted all in yellow, I met a young mother and her son with Down's Syndrome. He was 4 years old but had never stood on his own. I watched his mother struggle to carry him to see my clinical instructor and me.
I felt an instant connection to this little guy, as my Uncle Scott also had Down's Syndrome. I couldn't speak Spanish, and the little boy couldn't speak English. But he understood a smile, a kind touch, and play. Words were unnecessary for treating him. By the time we finished with a one-hour session, he was standing on his own, holding on to a foam roll, and playing ball with his mom.
Being able to stand meant her son could learn to walk, giving him opportunities that otherwise would have evaded him. On return visits, I was elated to see she continued to work with him, using the exercises and therapeutic techniques we shared with her. Today, not only does he stand and walk on his own, but he also happily plays soccer with the other children.
My Ohio high school challenged us to be a "man for others" in the mode of its namesake, St. Ignatius of Loyola.
My education taught me the clinical aspects of treating disease and injury. But it is through opportunities to serve others — many of them outside of the United States — that I have learned the "skills" of smiling, therapeutic touch, play, compassion, empathy, and sympathy. I have learned how to engage people in their homes, how to respect unfamiliar cultures.
Before my work with the medical team in Mexico, I had spent time working on the Tohatchi reservation in New Mexico through the Arrupe service program in Cleveland, and I took part in several service immersion activities through my college, Wheeling (W.Va.) Jesuit University. In inner-city Wheeling, it was soup kitchens, food banks, and day programs for children; in Kermit, W.Va., medical screenings and clean-up of Appalachian Donation Center; in Camden, N.J., soup kitchens and community centers.
These experiences played a part in my career path, leading me from an initial interest in athletic training to earning a doctorate in physical therapy.
When my formal education was complete, I jumped at an opportunity through Wheeling Jesuit's physical therapy program to be an affiliate professor for international service learning experiences and to return to Mexico two more times as a clinical instructor.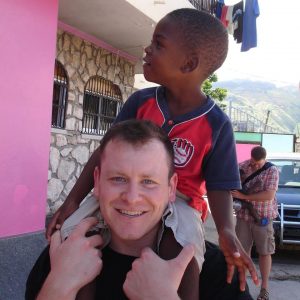 I also could travel to Haiti, the poorest country in the Western Hemisphere and still recovering from devastating natural disasters. I expected to find anger, sadness, danger. Instead I was met with welcoming handshakes, smiles and a flurry of "Bonjous," which means hello in Haitian Creole.
Our time in Haiti was spent at God's Littlest Angels and Parker's Haiti Mission, organizations that specialize in feeding children to health and returning them to their families. Most of the children had not known play or interaction because of a general lack of energy or the necessary food for development.
I learned that one of the greatest benefits of physical therapy is being present for the patient. No patient taught me that better than the 2-year-old who spent his days in a bed on oxygen. We took turns playing with him, holding him, and in general giving him the human interaction and love that all children need.
Before we left, he did something that he hadn't done in two years: He smiled.
Physical therapy is more than being a therapeutic exercise specialist. Spending three or more hours a week with patients, physical therapists may provide more interaction than any other healthcare professional. We earn a living because of our subject knowledge and clinical expertise, but we gain fulfillment from experiencing physical therapy in uncommon ways.
With each patient and travel opportunity, I expand my understanding and appreciation of others, creating a life of value that satisfies my soul.